About Sara-Anne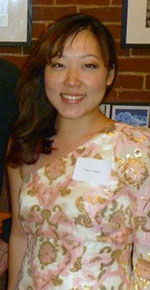 Sara-Anne was born and raised in Kaneohe, Hawaii. She attended Carnegie Mellon University in Pittsburgh, Pennsylvania, and graduated with a double-major in Professional Writing and Creative Writing. One of her goals while at CMU was to be able to create a book completely from scratch: to write the content, edit it, to design it (in InDesign, on letterpress, or scribed in calligraphy), and to produce it (with traditional techniques of bookbinding). It was important for her to learn every aspect of book publishing: not just in the digital age, but the history of it; not just typography, but how to create letterforms; not just editing, but writing, too.
In 2010, Sara-Anne earned her Masters in Professional Writing, with a concentration in editing and publishing. After graduating, Sara-Anne worked as Managing Editor for Carnegie Mellon University Press, working with authors and designing and editing books. In addition, she reviewed manuscripts for Upstart Crow Literary Agency.
Since 2013, Sara-Anne works as a contractor technical writer for the NASA Safety Center in Cleveland, Ohio. She writes articles for the NASA Safety Center internal website and the Office of Safety and Mission Assurance website, scripts for safety videos, and content for various safety materials; she writes, designs, and codes responsive Agency emails; and designs and writes other information dissemination materials. In addition, Sara-Anne is an Adjunct Faculty for Cuyahoga Community College where she teaches Publication Design and Typography in the Visual Communication & Graphic Design department. In her free time, Sara-Anne continues to serve as a PR and Marketing Board Member for Pittsburgh Shakespeare in the Parks, and is a member of both the Western Reserve Calligraphers and Calligraphy Guild of Pittsburgh.